BACK
MEET THE MURALS: A GLIMPSE INTO THE ART SCENE AT DESTIN COMMONS
Complementing Destin, Florida's natural art–sparkling blue waters against sugary sand, post-sunset cotton candy skies, and mesmerizing creatures dancing through lush habitats–there's an array of vibrant and thought-provoking masterpieces brought to life by talented creatives ranging from celebrated locals to internationally-acclaimed artists. Sprinkled with catching and immersive murals, Destin Commons has gradually transformed into a place where guests of all ages can observe, interact with, and enjoy public art to their heart's content. Whether you're an art connoisseur, hoping to instill an appreciation for art in your children, or simply someone who enjoys being surrounded by colorful creations, our Destin Commons art scene is sure to spark joy and inspiration–all while serving as Instagram and TikTok-worthy backdrops for photos and videos of your own. Here's a closer look at some of the best art in Destin(and an exciting way for guests to become the artists themselves!):
The Collection
In true Destin spirit, the sky is the limit…especially when it comes to using your imagination! There are numerous ways in which guests can engage with our interactive murals. Snap an Instagram-worthy selfie to send a virtual version of Taylor Shaw's "Destin Postcard," flock like a flamingo in front of Andrew Wargo and Keith Jette's "Tropical Vibes" mural, play with the optical illusion in Daniel Fila's "Gone Fishing," or come up with a punny social media caption for Dabsmyla's "The Friend Ship." These pieces–and their artists–offer endless inspiration:
Destin Postcard by Taylor Shaw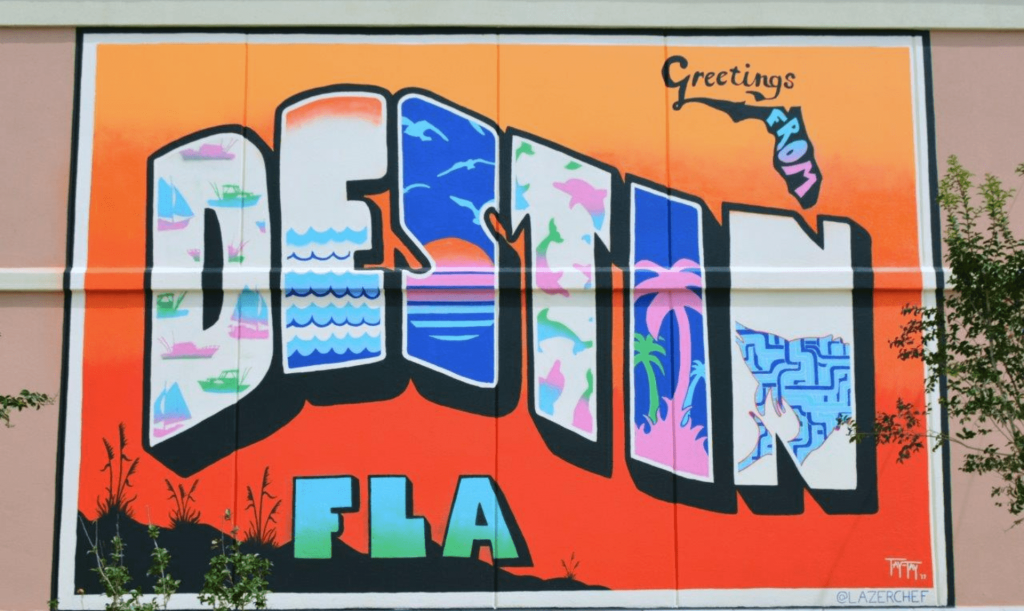 Among the most iconic and photographed murals at Destin Commons is, fittingly, Destin Postcard. This piece was created by Destin native, Taylor Shaw, who began his journey at the age of 14, working as a dishwasher at the Indian Bayou Country Club in Destin. Now 32, Shaw has since evolved his career. He first moved to Austin, Texas, to establish his own restaurant business. However, he sold this venture three years ago, choosing to move to Athens, Georgia, where he could further his education at the University of Georgia (UGA). Before relocating, Shaw earned an undergraduate degree in painting from Mississippi State. Currently, he's working towards his Masters of Fine Arts in Sculpture at UGA, diligently immersing himself in his studies. In addition to his academic commitments, Shaw continues to create commissioned artwork, specializing in woodworking, metal fabrication, and wood sculptures. You can stay up to date on his work by following him on Instagram, @lazerchef. When signing his official artwork, Shaw uses the pseudonym "Tay-Tay".
Blue Crab and Gone Fishing, both by Daniel Fila ("Krave")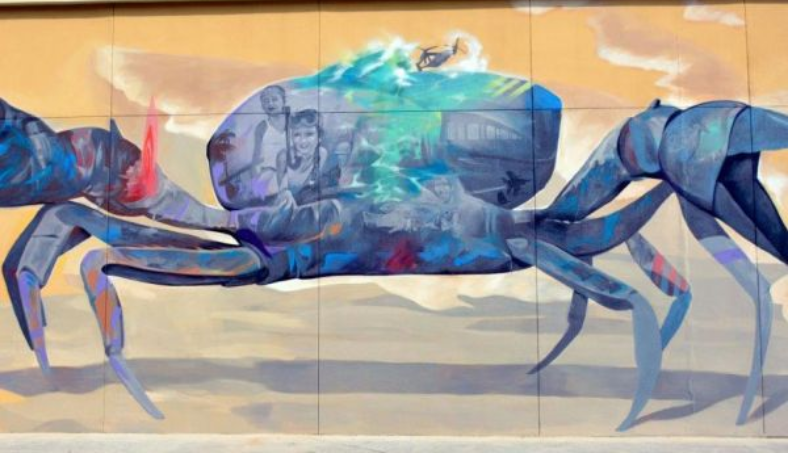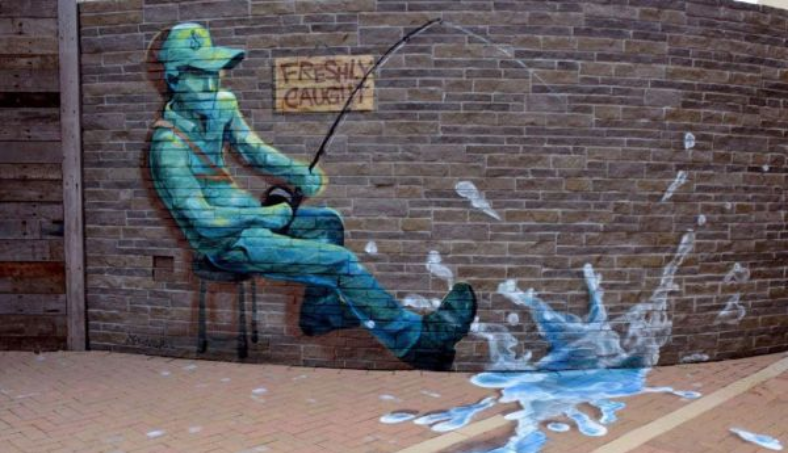 When it comes to Daniel Fila's pieces, you'll want to take a closer look–there's much more to Blue Crab than initially meets the eye, and Gone Fishing might have you feeling as though you're in a splash zone. Also known as Krave, Filais a multi-faceted artist whose work ranges from mural installations and figurative and abstract painting to animations and urban sculpture using a range of mediums, techniques, and aesthetics. Born in Miami, Fila was influenced by his father, a commercial artist, and began sketching as a young boy to express himself and distinguish his unique identity. Ultimately, art led Fila to obtain an extensive art education in some of the country's most respected schools and to his path to urban culture and street visual art in public spaces. An early pioneer in Miami's urban art scene, Fila still lives in Miami, where his most famous work is "The Sunbather", a mural located on Biscayne Boulevard that achieved international exposure when featured in Michael Bay's movie, "Pain and Gain", starring Mark Wahlberg and Dwayne Johnson in 2003.
Tropical Vibes by Andrew Wargo and Keith Jette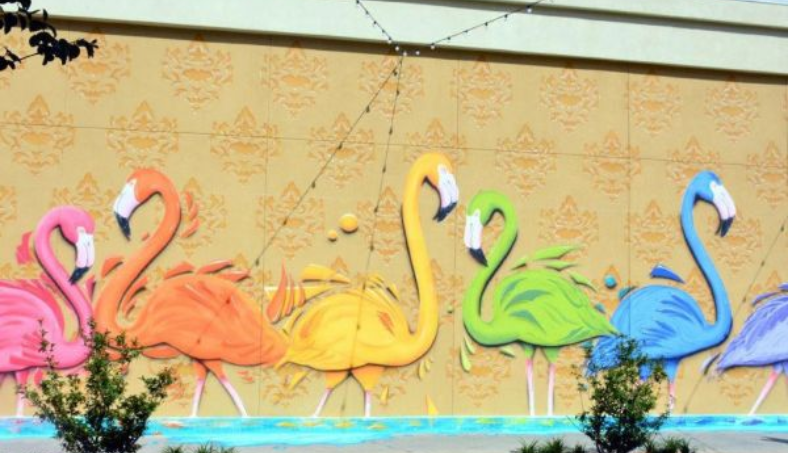 This is one colorful mural you'll want to "flock" over to immediately! Tropical Vibes, by A.Wargo and K. Jette, evokes the joyful beauty of Florida's vibrant colors and wildlife. Andrew Wargo is a primarily self-taught artist, originally from Orlando, but now based in Ft. Walton Beach. Wargo began his artistic endeavors at a young age and later supplemented his journey with formal art classes. Drawing upon inspiration from his surroundings, Wargo seeks to immerse himself in the local art community. He has been a juried artist showing in the MattieKelly Art Foundation's Destin Festival of the Arts over the years. Keith Jette is the owner of Wicked Paint in Ft. Walton Beach, a paint shop for motorcycles and hot rods. His unique custom artwork ranges from automotive to canvas and tattoo work. Last year, based on his artistic talents, Jette was featured on the national TV show Skin Wars. The show reached out to Jette after being impressed with his artwork on Instagram. You can view Andrew and Keith's works at www.andrewwargoart.com and www.facebook.com/Wickedpaintfwb/.
Wish You Were Here, Greetings From…, Good Vibes, and The Friend Ship, all by DABSMYLA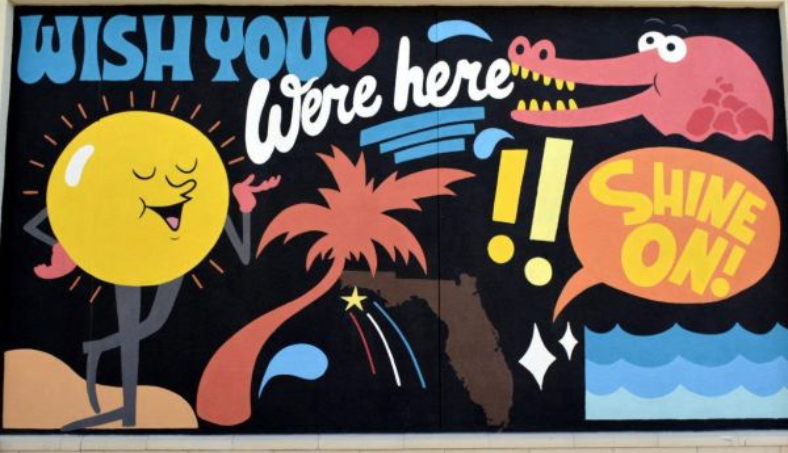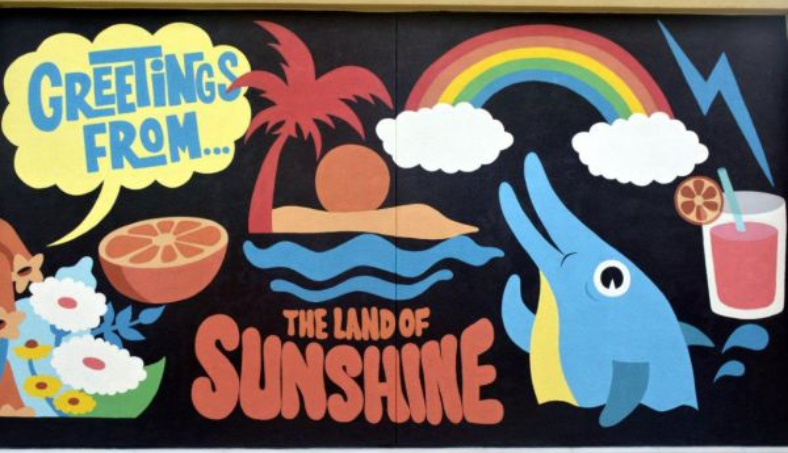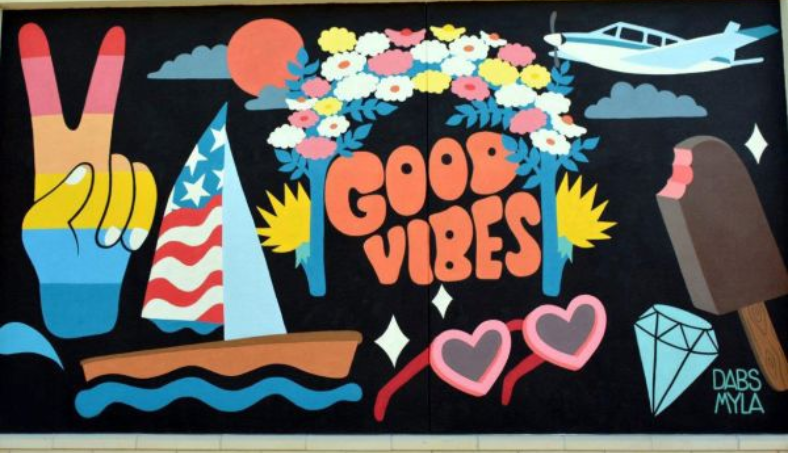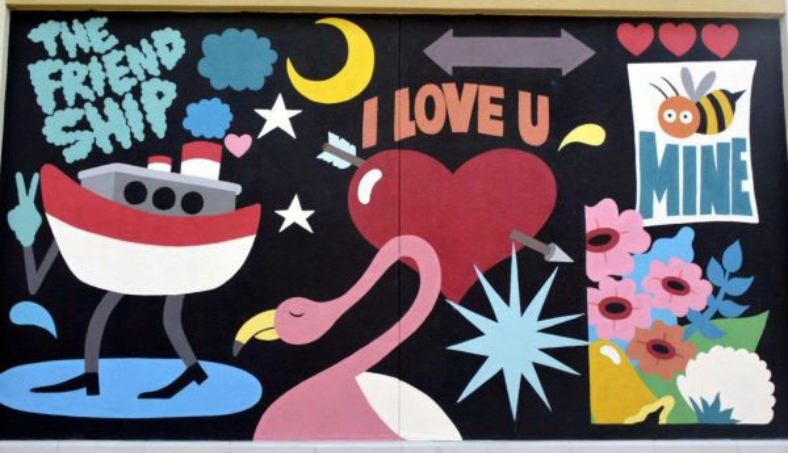 Gifting Destin Commons, not one, but four Instagram-worthy murals filled with feel-good vacation vibes and inviting Florida details, Australian husband-and-wife visual artist duo DABSMYLA bring their Down Under talents all the way to the Sunshine State. DABSMYLA employs a shared design language that dictates subject matter, positioning, color theory, and perspective. With this established framework and unspoken set of rules–strengthened by over a decade of working together simultaneously–their singular goal is to tell an expansive story that is wholly unique to their own experiences. There is nothing random or erroneous in DABSMYLA's work; it's planned and executed with the precision of a diamond heist and with the charm of a Technicolor world. DABSMYLA enhances each work with immersive environments that underscore the sense of whimsy and grandeur contained inside paintings, mixed media, and sculpture. This milieu isn't simply adornment, but rather the tangible foundation upon which everything else stands. It's this warmth and willingness to share which makes DABSMYLA's art completely unique. Exploring tactile themes through sight, touch, and sound, there are no boundaries so the lines between real life and dreamscape are non-existent.
Mattie the Giraffe Sky by Andee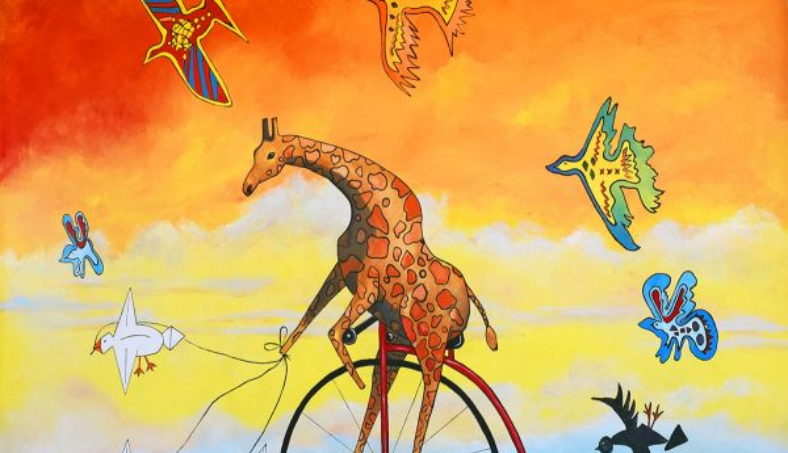 Mattie the Giraffe, made popular by local artist Andi Scurto, now graces the wall adjacent to the playground and splash pad at the Destin Commons. Scurto is known in Destin for her mural at the Destin Elementary School, as well as her award-winning poster design for the Mattie Kelly Arts Festival (both completed in 2015). For the Destin Commons mural, Scurto used a similar background to her school painting, but this time, her beloved character rides an old-fashioned bicycle in the sky surrounded by colorful birds. Withthismural, Scurto said she hopes to convey creativity and inspiration to everyone who sees it. She also has a Mattie book in the works and wants to remind viewers that it doesn't matter who you are–you can always enjoy adventures.
Coloring the Commons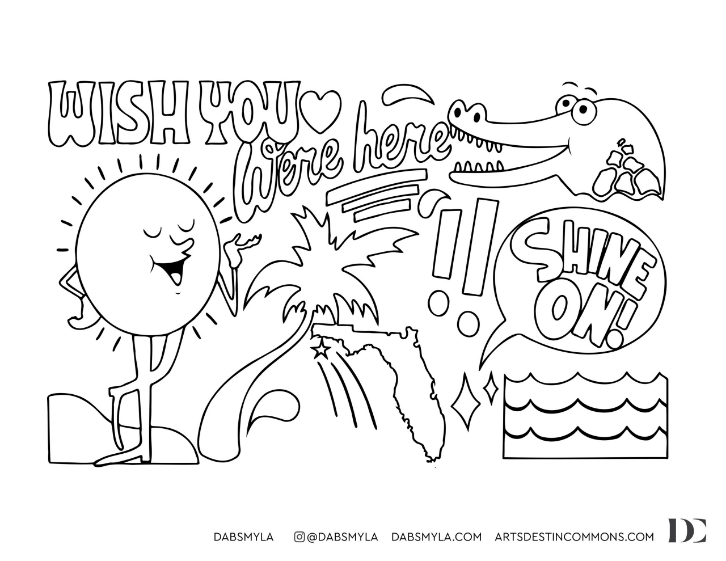 Feeling inspired to create something beautiful of your own? Born from a desire to connect with our visitors and foster creativity, our Coloring the Commons program welcomes guests to tap into their inner artists and re-imagine the colorful murals at Destin Commons through their own lens. Simply download and print the coloring pages at DestinCommons.com/Coloring-The-Commons/ to bring a little piece of our center home with you (pro tip: this makes for a fun and engaging family-friendly summer activity!). And, of course, don't forget to share your masterpieces with us by tagging #thedestincommons in your social media photos. Who knows … you may just be the new artist featured onsite! For more information on Destin Commons and our art murals, visit DestinCommons.com/The-Collection/.
RELATED READING